As we bid farewell to Aries Season, we say hello to Taurus! In Taurus Season, we may work on grounding the new and exciting energies we cultivated during the time of Aries. Read on for inspiration and supportive elements to assist you in this transition, specially curated for you, from our Desert Rose Goddess Team!
A note from Manager Goddess Eden…
In distance running, you're instructed to position your body tall, with your chin up and your center guiding you forward like there is a string connected to your pelvis, pulling you ahead. I practice this form during my morning runs, and it is absolutely wild the amount of endurance a simple change of position can grant you. Running like this, feeling strong and pulled forward is how we move through Aries season. With our heads tilted back, face in the sun, arms open wide, and centers tugging us forward into all the new opportunity life throws our way. Think of the ram, Aries' own symbol with its powerful horns, charging forward to meet the world head on! 
Aries energy tends to run hot, impulsive, and direct. It's a fire sign ruled by Mars, the planet of drive and desire, and its season which runs from March 20th to April 19th also happens to align with the start of Spring! During this time of the year, we're getting excited for warm weather and all the activity that the Sun brings with it. Maybe we're finally taking action on goals we planned out from the new year, and diving into our "new beginnings". Aries season can be a particularly bright time for beginnings — new projects, new jobs, new relationships. It's also, more broadly, a time for thinking boldly! 
✨ Aries Season Reminder: You don't have to mold your desires or temper your expectations to achieve your goals when it's already within your power to change what is possible. All that you envision, is meant for you. Go after it! 
Aries energy encourages you to always leave the audience in Awe. Think about Lady Gaga stepping out on the red carpet in her meat dress, or literally any other of her show stopping outfits (Aries Goddesses rise up! You've got Gaga on your side) — Aries season is inviting you to embody that kind of bold, commanding beauty. 
✨ Want a few new adornments to help embody this boldness? Check out a few of my current favorites : 
Celeste Rainbow Cosmic Bar Single Stud
14K Gold Swedish Fish Mantra Pendant
You may also be called to embody the Goddess, Morrigan, who encourages warriors to be brave and fearless. This Goddess' energy reminds you that you don't need anyone else's permission or approval — you already know that you have a right to be here and to live your life exactly as you are.
So! You've got the confidence, you've got the bright and bold energy, the many avenues for new adventures, new activities, and new opportunities. Now how do you keep that fire stoked through the rest of the year without feeling burnt out? 
✨ …..Taurus Season is here to help with that 
After the intensity of Aries Season, and after those bright, blissful first warm days of spring, Taurus season — which usually runs from around April 20 to May 20 — offers us a chance to stabilize, to get comfortable, and to come back down to earth. We're entering the sweet core of the springtime, when seeds germinate and sprout, trees begin to bud, and nature is focusing on nourishing itself.  
Taurus Season invites you to slow down and focus on nourishing yourself, too. In between your big goals and ambitions, it's important to hold space for the small moments…sipping tea in the early mornings, cuddling pets, eating a yummy meal, practicing your self care routines, dressing yourself in jewelry, and simply doing YOU! 
✨ Here's a few crystals to help with grounding, if you need support : 
Taurus season can be a great time for maintaining and deepening work on an ongoing project and for staying committed to your own goals, ideas, and desires. It may also just be a great time for stubbornness! Nobody else gets to tell you what to do or who you are. You know what you're about, and good luck to anyone who tries to boss you around during Taurus season! You have the power to resist what you know to be wrong for you and defend what you know to be right — Much like the Goddess, Freya! 
Prosperous, promiscuous, and vibrant are just a few words to describe this Goddess' energy. Like those born under the sign of Taurus, Freya is a Goddess who knows what she wants, and she's not going to apologize for appreciating the finer things in life. As the Norse Goddess of love, fertility, beauty, and fine material possessions, it is said her jewelry collection is unrivaled! This Goddess truly knows how to pamper herself! Let Freya serve as a reminder for you to appreciate your own beauty and finery, and like Taurus Season invites, indulge in those moments. It's easy to overlook the pleasure that comes from putting on your favorite jewelry, but slowing down in these moments can help to nourish the soul. 
Let yourself be in AWE of your own beauty and awesomeness! 
Xoxo, Eden
✨ Explore a few of Freya's favorite Desert Rose jewelry picks below! 
Awe Inspired Freya Pendant Necklace 
Rebecka Froberg Gold Dandelion Earrings 
Eden Presley Cosmic Bar Single Stud Earring
Eden Presley Celeste Diamond Orbit Studs 
Looking for a mindfulness activity to further ground that fiery Aries energy?
We invite you to try this Grounding Ritual, crafted by our very own Aries,
Shop Goddess Geraldine! : 
Materials : 
Loose Chamomile Herbs - The 'Emerge' loose Herbs from our witchy-wellness Sister-Store,
Becca Rose, works great here
Amethyst Crystal - try out a tumbled stone for a smooth comforting feel!
Small satchel/pouch - try our Desert Rose drawstring pouch! 
A sigil for grounding yourself in nature -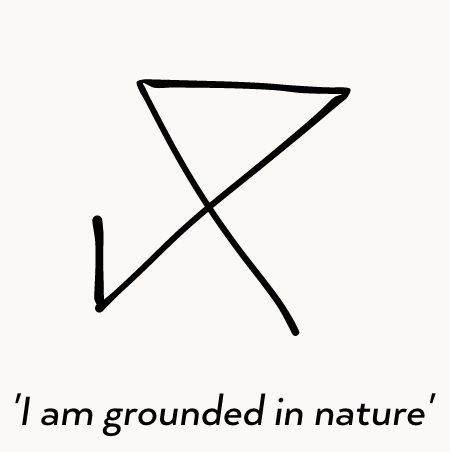 Use this ritual as inspiration for your own grounding practice... 
Place your herbs in the pouch with the intention of serenity. Imagine the blooming Spring... as you come across a field, the flowers burst out of their buds, one by one, three by three, until you are immersed in a field of flowers. These flowers are soft, but hardy. No matter where you step, the flowers remain upright, reaching towards the heavens.
Now, place the Amethyst tumble in your pouch. Think of mid-sunset where the sky resembles cotton candy. Swirls of purples and pinks with blue becoming darker. You could get lost in this atmosphere. You feel as if the sky is swaddling you, comforting all sides of you.
Next, proclaim to the universe, "I am grounded in nature!" and pull that proclamation deep into your bones. To add further power, you can draw the sigil on a piece of paper and insert this into your satchel too! It may be helpful to recall a time when you felt the most grounded and at peace, how did that feeling steady your body? As you close the satchel, visualize the calm that you desire and know that with it, comes a wave of focus. Place the satchel under your bed pillow to accompany you during the dream world. Or bring it with you wherever your adventure of the day takes you.
Infinite blessings to you, Goddess!